mian
Regular price
$49.00 USD
Sale price
$30.00 USD
Unit price
per
Sale
Sold out
Imperfect Print With The Exact Same Formulation

The printing of these bottles peeled off during shipping but, rather than let them go to waste, we're making them available at a reduced price to be used as they were intended.
More Love, Zero Waste
Our printing mishap has given birth to a unique zero-waste approach. By using bottles with the peeled printing, we minimize waste and extend the life of each bottle. Rest assure, the outer box will still have the similar ingredients and instructions wordings with all the product information.


Quality You Can Trust
While the bottle's wording might be peeled off, rest assured that our Retinal Neon Serum contains the same untainted premium skincare formulations you know and love. We maintain our commitment to delivering high-quality products that nurture and enhance your natural beauty.


Limited Stocks Available
Stocks are limited. Embrace the uniqueness of each bottle by supporting our mission to sustainability. Unlock the magic of Retinal Neon Serum and illuminate your way to timeless beauty!
Note: We do not provide refunds or exchange to Imperfect Prints product 
Share
Active Ingredients

Niacinamide 3%

Boost Retinal effectiveness
Stimulate collagen production
Reduce pigmentation and inflammation
Minimise pore appearance
Hydrate skin

Urea 3%, Oatmeal 1% , Aloe Vera 

Soothe and smooth  skin
Hydrate skin to minimise peeling, burning and redness

2% Arbutin 

Brighten skin
Reduce pigmentation
How to Use

For best results, apply our Retinaldehyde (Retinal) serum as part of your evening skincare routine after cleansing and drying your face. Dispense one pump, which is approximately the size of a green pea, and gently massage it onto your face.

If you are new to using retinoids, start by using the serum once every three nights for two weeks. Then, gradually increase the frequency to once every two nights for another two weeks, provided there is no redness, peeling, or burning. Once your skin has adjusted, you can increase usage to once per night.

For tips and tricks on how to use retinal efficiently and minimize any potential side effects, check out our guide here.
Free Of 

Fragrance, Denatured Alcohol, Paraben, Formaldehyde, Parthenolide, Phthalates, Sulfates (SLS,SLES), Lanolin, Soy, Artificial Colorants, Ethanol, Methanol, Isopropyl Alcohol, N-Butyl Alcohol, Eythyl Alcohol, SD Alcohol, Petrolatum, Mineral Oil, Hydroquinone, Talc, Oxybenzone and Coal Tar.
Full Ingredients

Deionised water (humectant)
Cyclopentasiloxane (emollient)
Dimethicone (emollient)
Urea (humectant)
Niacinamide (anti-inflammatory/reduce pigmentation/reduce sebum/stimulate collagen/humectant)
Arbutin (skin brightener/reduce pigmentation)
Glycerin (humectant)
Cetearyl Alcohol (emollient)
Ceteareth-20 (emollient/emulsifier)
Octyl stearate (texture enhancer/ emollient)
Argania spinosa L. oil (Argan Oil)(antioxidant/emollient)
Carthamus tinctorius oil (Safflower seed oil) antioxidant and emollient)
Cetostearyl ethylhexanoate (texture enhancer / emollient)
Isopropyl myristate (emollient/thickening agent)
Hydrogel (humectant)
Propylene glycol (humectant/conditioner)
Avena sativa (oat) meal extract (anti-inflammatory/skin soother/antioxidant)
Phenoxyethanol (preservative)
Ethylhexylglycerin (preservative)
Retinaldehyde (anti-aging/stimulate collagen/reduces pigmentation)
DMDM hydantoin (preservative/anti-microbial)
Aloe barbadensis juice extract (Aloe vera)(anti-inflammatory/skin soother/humectant/humectant)
Butylated hydroxytoluene (BHT) (antioxidant/preservative)
Sodium acrylate / sodium acryloyldimethyl taurate copolymer (emulsifier / stabilizer)
Isohexadecane (texture enhancer/thickener)
Polysorbate 80 (emulsifier)
Disodium EDTA (chelating agent)

 

1 Creidi P, Vienne MP et al. Profilometric evaluation of photodamage after topical retinaldehyde and retinoic acid treatment. J Am Acad Dermatol. 1998 Dec; 39(6):960-5.
View full details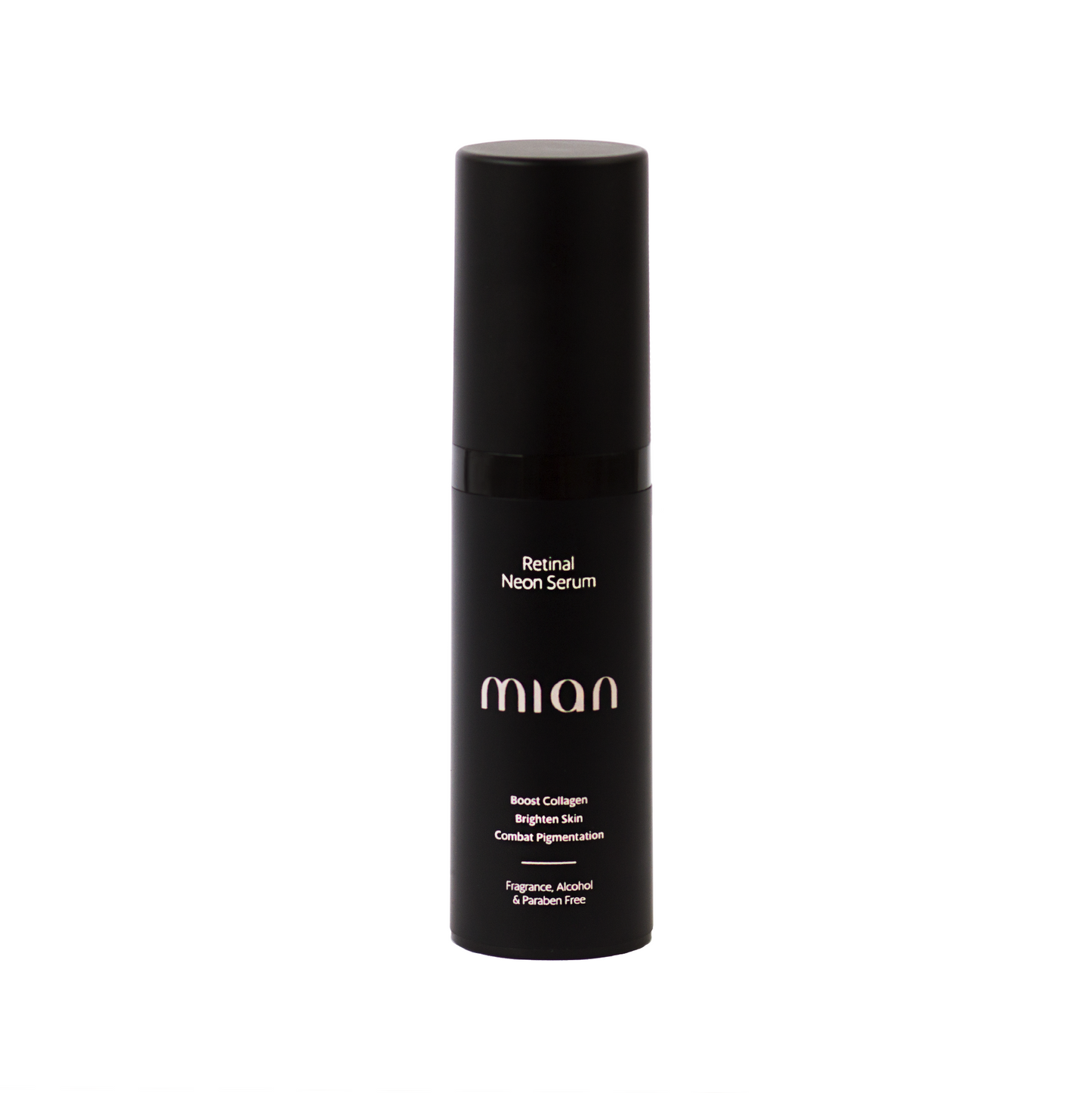 Experience Real Results
Our serum is backed by science and studies for real results, giving you the confidence to know you're using a product that really works. Say goodbye to dull, lacklustre skin and hello to a brighter, smoother, more youthful complexion with our Retinaldehyde serum.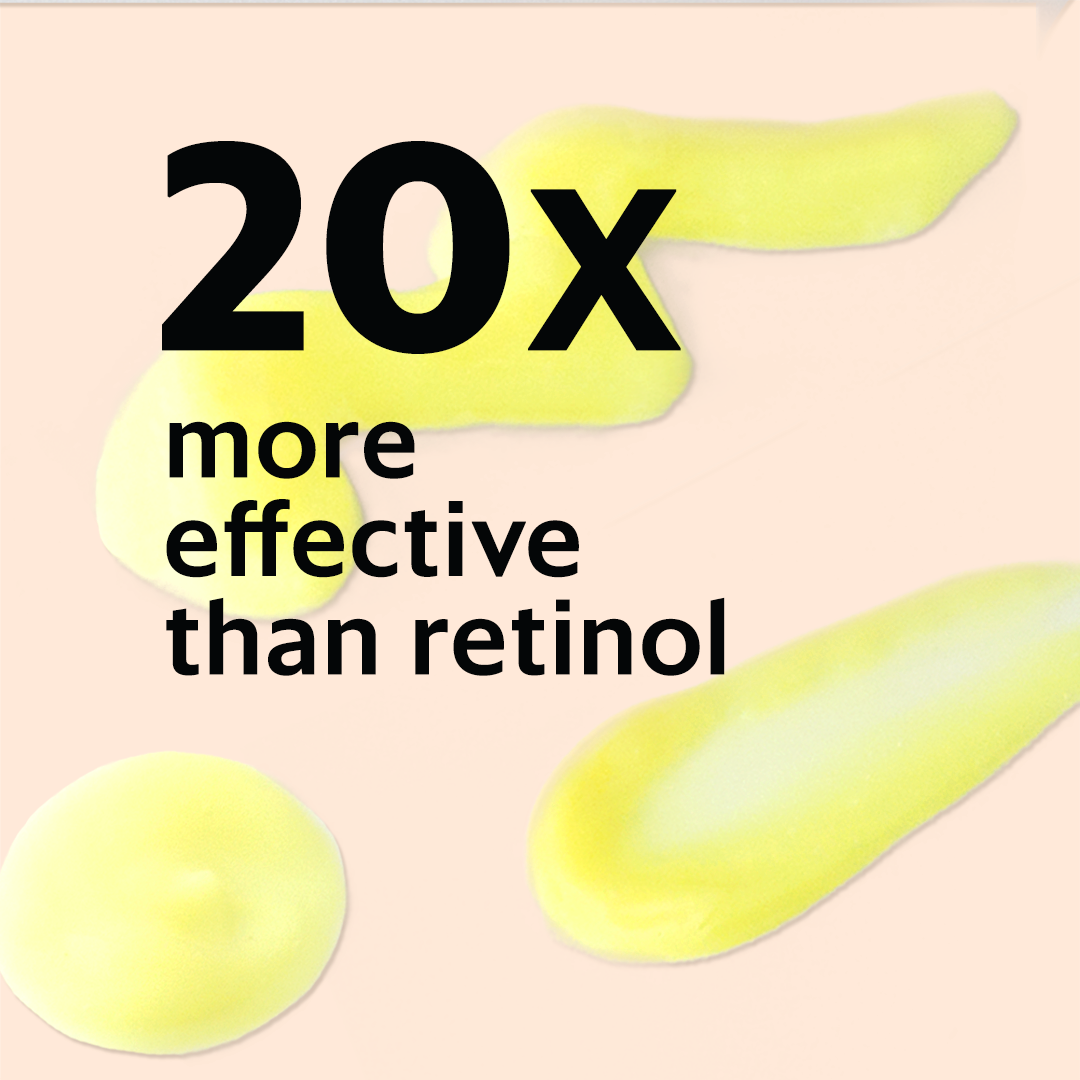 Why Retinal?
Retinal is a type of retinoid that's 20 times more effective than retinol, making it perfect for those looking for maximum results. Plus, it's gentle on sensitive skin, making it a great alternative to harsher retinoids that require a prescription.
FAQs
Precautions

Avoid if pregnant or breastfeeding.
Always use sunscreen (SPF ≥30) in the morning.
Avoid using with AHAs/BHAs/Retinoid products/Vitamin C. 
Storage

Store in a cool & dry place. Away from direct sunlight / heat.